Posted by Midwood Flower Shop on Apr 5th 2020
The Fourth of July is a time for us to celebrate our independence as Americans. With any celebration comes decorating for the occasion! Adding flowers to a home or gifting some to close friends and loved ones can flourish the idea of festivity.
Using flowers as a decoration can be simple. For instance, at Midwood Flower Shop, our Red, White & Bloom flowers remind us of our independence with its patriotic color combination and flag.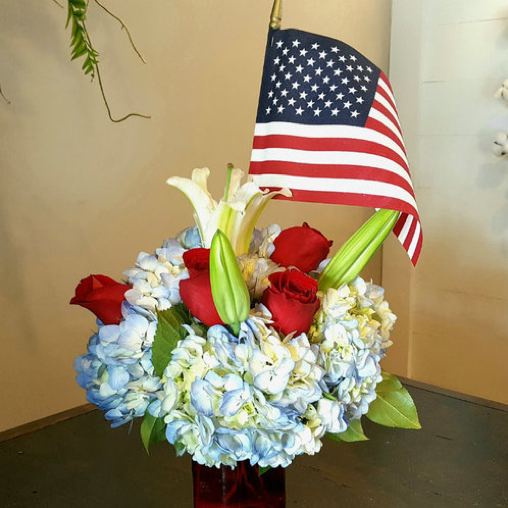 Why do we celebrate America's birthday on the Fourth of July?
The Fourth of July is the day Americans dedicate to celebrate our independence from Great Britain. July 4th 1776 was the day our founders of the United States signed the Declaration of independence. Ever since it has been a tradition within this nation to honor America's birthday!
Where can I use Fourth of July flowers?
Fourth of July flowers can be used almost anywhere, like-homes, schools, offices, or parades. Sprucing up any location with flowers can leave the community feeling cheerful and patriotic. With any holiday, it is always meaningful to celebrate with the community, whether it is at a parade or gathering with family and friends. There is also the option to send someone flowers through our flower delivery service.
Why flowers?
Fourth of July flowers are the perfect decorative accessories. After all, they are natural, fresh, colorful, and they smell great. Not the mention, they're versatile when it comes to arrangements. This allows you to use your favorite flowers as decorations. In addition, Fourth of July flowers can still be used after the holiday. Instead of placing them away until next year, you can enjoy the natural beauty of the flowers much longer.
Get Creative!
At Midwood Flower Shop we offer the Red, White & Bloom flowers for the occasion, but of course you can pick your own flowers and we can make a new arrangement or you can make your own arrangements! With the option to choose different bundles of flowers anyone can get creative. Any person that likes arts and crafts can create flower arrangements or wreaths with friends and family.
Our independence as a nation is something to be proud of. Show your pride this Fourth of July by checking out our flowers. Adding flowers anywhere can shift every atmosphere into a celebratory environment. Flowers are the perfect decoration that can brighten up any room with a pop of color and fresh scent.