Posted by Midwood Flower Shop on Jul 10th 2019
For all of those who love July, the flower of the month is Larkspur. Larkspur is a beautiful plant that comes in a variety of colors such as, pink, violet, and white. These tall plants originated in southern Europe and peak during the hot summer months. Larkspur is the common name used for annual species of the genus Consolida and the perennial Delphinium species. These exceptional looking plants have some unique qualities too! Let's jump into some odd facts.
Odd facts!
-The name for the delphinium species stems from the Ancient Greek word delphínion, meaning dolphin. It was believed that the shape of the plants flowers resembled dolphins! If you look hard enough, you might start seeing it.
-It is also known that the name larkspur is derived from the pointy shape one petal of the flower has, resembling prick spurs.
-While these plants are delightful to look at, don't let their beauty fool you. Larkspur is known to be poisonous to humans and animals, especially the seeds.
-Strangely enough, domestic sheep are known to withstand the poisonous plant.
-When larkspur is mixed with the chemical compound alum, it can produce blue ink.
Check out this YouTube video by Health Apta to learn more facts about Larkspur!
Color symbolism
With many flowers being connected to specific meanings, larkspur is no exception. Since larkspur comes in a different range of colors from violet, white, and pink, it is only natural that each color takes on a different meaning. The symbolism for violet larkspur is heavily associated with love. The white larkspur stands for happiness. While, the pink flowers represent fickleness. This meaning is influenced by the different array of pink shades. Next time you're looking to pick up some larkspur, think about the symbolism, it can be a fun way to determine which color you'd like!
How larkspur is used
Larkspur is commonly used as a fragrance in candles, lotions, oils, and much more. In the past, Larkspur has been used to rid of lice, scorpions, and venomous snakes. Dried Larkspur has also been used throughout history as a protection against ghosts. While many people in the past grew larkspur in their gardens, it is still common today. Larkspur will always be popular for its beauty.
How to care for larkspur
-It is important to start planting larkspur in spring or fall so they are ready for summer.
-If you live in an area with strong wind is would be wise to stake them. When these plants grow they tend to become very tall. Staking them will prevent them from bending or breaking.
-Make sure to water your larkspur twice a week.
-Fertilize the plants every other week.
-To create an arrangement, cut the larkspur just before they fully blossom.
Summer favorite
Larkspur has an interesting history and some quirky facts that make them stand out. When admiring these alluring plants, it is no wonder they are a summer favorite. Embrace the flower of the month this July and check out our shop! At Midwood Flower shop we have a selection of summer bouquets such as our Colorful Garden Bouquet, which contains delphinium and much more!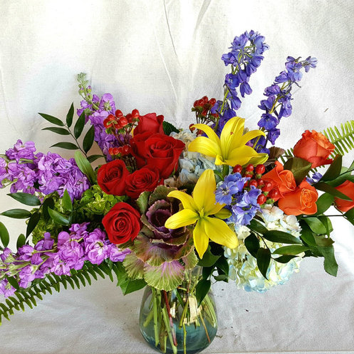 https://www.midwoodflowershop.com/charlotte-florist/florist-specials/colorful-garden-bouquet/
Sources:
Delphinium. (2019, March 14). Retrieved from https://en.wikipedia.org/wiki/Delphinium
Dyer M.H. (2017, September 21).How to Car for Larkspur. Retrieved from
https://www.gardenguides.com/69767-care-larkspur....
[Health Apta]. (2018, April 13) Facts about Larkspur Flowers [Video File]. Retrieved from
Larkspur- Types of Larkspur Flowers. (n.d.). Retrieved from https://www.theflowerexpert.com/content/growingfl...
Nair, S. (2018, February 27). Symbolism and Facts About the Ravishing Larkspur Flower. Retrieved from https://gardenerdy.com/larkspur-flower-symbolism-...
The Larkspur Flower: Its meanings & Symbolism. Retrieved from